Campbellton RV Camping
Have an unforgettable time at the campsite next to the Restigouche River Experience Centre. You are sure to be delighted by the natural beauty of the surrounding countryside. Set on the banks of the Restigouche River with the Appalachian Mountains forming a majestic backdrop, the Centre has no shortage of breath-taking views!
2021 Season : Open from May 21st to September 30th.
Reservations
Book a stay with us through our partner Réservation Camping.ca by clicking on their logo below. Please note that this link will take you directly to their website.

For general inquiries, or to book a stay by phone, please call 1- 844 - 787-3701. You can also email us at rvcampingvr@campbellton.org.
Campers with tents can stay at Sugarloaf Park near Campbellton.
Consult our GUIDE TO LIFE AT THE CAMPGROUND for booking conditions, payment and cancellation conditions, and rules by clicking on logo below: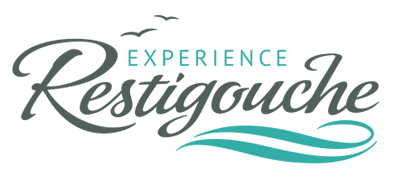 Tarrifs
All rates include applicable taxes
Daily Rate

Low Season*

Daily Rate

High Season**

Daily Rate

In-Transit***

Waterfront 50 A - Pull-through

$ 45

$ 55

$ 28

Waterfront 30 A - Pull-through

$ 38

$ 48

$ 24

$ 38

$ 24

$ 32

$ 42

$ 21

$ 34

$ 44

$ 22

$ 28

$ 19

Seasonal

Annual Rate

$ 1610

$ 0.16 /kW

Rater per usage

Washers

$ 2

$ 2

$ 2

Dryers

$ 2

$ 2

$ 2

Showers

$ 1 / 15 minutes

$ 1 / 15 minutes

$1 / 15 minutes

Dumping Station

(for campground clients only)

No Charge

No Charge

No Charge

*LOW SEASON: From May 21st to June 20th 2021 and from September 2ndto September 30th 2021.

** HIGH SEASON: From June 21st to September 1st 2021.

***IN-TRANSIT: Arrival after 8:00 pm (until the closing of the reception) and departure before 11:00 am the next day, without reservation, stay of one night only.
7th Night free!
Due to Covid-19 please be advised that the campground washrooms and showers will remain closed for the season. All trailers/motorhomes must be self-contained.
The laundry room will open on June 22. Thank you for your understanding.

Directives to Campers during Covid-19
Amenities on site :

Full Services

Lots built to accomadate full size motorhomes

Pet Friendly
Wi-Fi access
Showers
Laundromat
Dump Station

Restigouche River Experience Center

(www.experiencerestigouche.com –available soon)

Local Tourism Attractions :

Esplanade Walking Trail
(Waterfront)
Waterpark and Kiosk
(Waterfront)
Amphitheatre
Salmon Plaza
Restigouche River
Restigouche Gallery (Art)
Location
Site plan

1 Riverview Drive

Campbellton, Nouveau-Brunswick

E3N 0E1

Canada

1- 844 - 787-3701.

Google maps
Follow us! Suivez-nous!
Experience Restigouche
Campbellton RV Camping VR de Campbellton